Volunteers open festive homeless shelter in Birmingham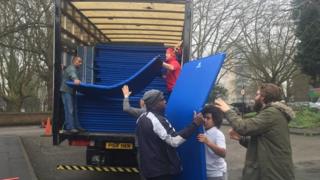 A shelter for homeless people is expecting high demand from rough sleepers over Christmas.
About 300 volunteers are to help out at Birmingham Christmas Shelter.
The shelter at St George's Community Hub, Newtown, will offer hot meals, mattresses and entertainment from 23 to 27 December.
Charity trustee Nigel Lawrence said demand could be high as soup kitchens in the city had seen an increase in the number of rough sleepers seeking help.
About £25,000 has been raised this year to help fund the annual shelter.
Mr Lawrence said it had previously had about 200 people sitting down for dinner.
"We don't know really [about numbers] but we won't turn people away," he said.
The opening comes as Crisis warned there were more than 9,000 "hidden" rough sleepers using cars, trains, buses and tents as accommodation in addition to an estimated 9,100 rough sleepers across the UK.
Businesses have donated food to the Birmingham shelter, while professional chefs are among those who have volunteered.
Entertainment at the Great Hampton Row premises will include a band, bingo and karaoke.
Mr Lawrence, a trustee for 10 years, said people could stay overnight on the mattresses provided, enjoy three meals a day or just pop in for a sandwich.
"It's open doors so people will just come and go," he said.
The shelter, which was first set up in 1976, aimed to help people at a time when many agencies were closed, Mr Lawrence added.
Birmingham Homeless Outreach, which is working to set up a permanent overnight shelter in Digbeth, is among other charities offering help.
Opening the shelter earlier, West Midlands Mayor Andy Street praised the "inspiring" volunteers who would give up time to help serve thousands of meals over Christmas.