'Hero' dog handler impaled on spike praised for arrest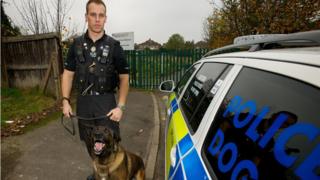 A West Midlands Police dog handler who became impaled on a fence during a chase has been praised for arresting a suspect moments before collapsing.
PC Dan Thomas had just lifted police dog Gil over an eight-foot high fence when a spike pierced his arm, causing "significant blood loss".
He was among several officers responding to reports of a motorbike theft at 03:00 in Sutton Coldfield.
PC Thomas managed to pull himself off the spike and continue the pursuit.
He then tracked down and arrested a 22-year-old man, found hiding in bushes, while other officers arrested a 16-year-old boy at the scene on Springfield Road, Walmley.
Full recovery
Both are being questioned on suspicion of attempted vehicle theft.
Writing on Twitter, Ch Insp Jack Hadley praised the officer's "dedication and tenacity", while others described him as a "hero".
West Midlands Police said despite requiring 15 stitches, PC Thomas would make a full recovery.
The officer thanked colleagues who improvised a tourniquet to stem the blood loss before he could be treated by paramedics.
He also praised his four-legged colleague Gill.
"He is a phenomenal partner and I'm very proud to work with him. I knew Gil was on to the suspect. I could see the blood pouring down my arm but was determined we had to keep on the scent and catch him," PC Thomas said.
"It was a good result in the end with two in custody - and we also recovered a stolen car that we believe the offenders arrived in."