Anthony Banting murder: Father 'stabbed 50 times at tram stop'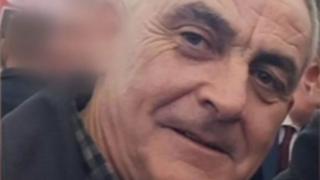 A man suffering from paranoid schizophrenia stabbed a father more than 50 times at a tram stop in a random attack, a court has heard.
Anthony Banting, 57, had got off a tram in Winson Green, Birmingham, on 31 March when he was stabbed in the head, chest and back.
Alaeldien Ahmed, an asylum seeker, was arrested during house-to-house inquiries and recognised from CCTV.
Mr Ahmed, 26, of Eva Road, Winson Green, denies murdering Mr Banting.
Birmingham Crown Court heard that Mr Banting was on the way to meet one of his sons in the pub when he died.
Three minutes after the father-of-four had got off the tram at Soho Benson Road Metro stop, he was lying dead on a footpath.
Nobody witnessed the late afternoon attack, the court heard.
Prosecutor Alan Kent QC said: "It was, it would appear, a random and motiveless attack."
Mr Kent said Mr Ahmed left Sudan in 2015, crossing the Mediterranean in an inflatable boat.
He ended up in Calais and travelled to the UK in a lorry before claiming asylum.
The court heard Mr Ahmed was diagnosed with schizophrenia and spent several months in a secure mental unit at a Birmingham hospital.
On the day of the murder, Mr Ahmed complained of headaches and said he felt everyone was looking and laughing at him, the jury were told.
Mr Kent said a psychiatric team visited him at his home and increased the strength of his medicine.
The trial continues.