Council could take back control of Dudley Hippodrome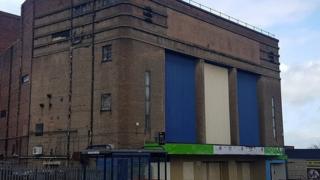 The keys to Dudley Hippodrome could be handed back to the council just over a year into a five-year lease.
Black Country Hippodrome Ltd (BCHL) took over the theatre in 2016 with the aim of reopening it, but council officers said it had "failed to achieve key milestones".
Council leader Patrick Harley said the building had become an "eyesore" and the local authority would be taking it back "with regret and a heavy heart".
BCHL said it was "very disappointed".
The hippodrome was used as a theatre until 1964, when it became a bingo hall playing host to major acts including Laurel and Hardy.
Dudley Metropolitan Borough Council, which bought the site in 2010, had planned to demolish the building in 2013 as part of a tourism plan, but a petition to save the building led to the decision being suspended.
A report, recommending the council take back control of the site, will go before the council's cabinet at a meeting on 8 February.
It said BCHL had failed to draw up and deliver funding strategies and building surveys.
Mr Harley, said the council had given the group "every opportunity, including extra time, to prove it could get this off the ground".
Chairman of BCHL Paul Collins said the group had all the milestones in place, but "may have fallen short in actually reporting it to them in the way they wanted us to".
"It's a very involved and very complicated process."
He said despite repeated vandalism at the site, the group had secured the building and made repairs to the roof. He also said it was "in a far better condition than when it was given to us in December 2016".
He said the group would not be giving up the fight to save the building.