James Brindley murder: Ammar Kahrod jailed for 17 years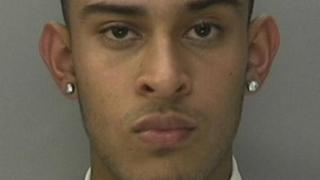 A teenager has been jailed for at least 17 years for the murder of a model on his way home from a night out.
James Brindley was stabbed in the heart 400m (1,312ft) from his parents' home in Aldridge, Walsall, West Midlands.
Ammar Kahrod, 17, from Aldridge, who denied murder, was convicted at Birmingham Crown Court on Thursday.
Police said only Kahrod knew why he killed the 26-year-old who was someone who had "everything to live for".
Reporting restrictions protecting the identity of Kahrod, who was sentenced to life in prison, were lifted by Judge Patrick Thomas QC, who said he wanted to deter other young people.
The court heard Mr Brindley was stabbed in a 35-second gap between two phone calls he had with his girlfriend at about 23:30 BST on 23 June.
West Midlands Police said witnesses driving past at the time reported seeing two men arguing with Mr Brindley, who then held up his hands to try to try and calm the situation down.
They ran over to help but found him collapsed on the floor.
His parents were alerted to their son's injury but he could not be saved, police said.
'Totally innocent'
Judge Patrick Thomas QC told Kahrod: "James Brindley died because you carried a knife.
"Once a knife is out, anything can happen - here the death of a totally innocent and unsuspecting young man."
The judge said Kahrod had "lied and lied again" by falsely claiming he acted in self-defence.
Prosecutor Jonas Hankin said Kahrod's first thought was "to immediately dispose of evidence" rather than seek help.
'Calculated and cowardly'
In a victim impact statement, Mr Brindley's sister Charlotte, 22, described him as her "best friend and confidante", saying the killer had "destroyed everything" dear to her family.
She said: "One of the worst parts is because James was so loyal, if the tables were turned - if he'd witnessed the defendant in trouble, he'd have done everything in his power to help them."
Mr Brindley's father Mark said his last words to his son as he left for a night out were "Have fun, Jim. Take care".
He told how his popular, intelligent son was at a "pivotal moment" in his life, on the brink of establishing a health and fitness business.
But those plans were shattered by Kahrod's "calculated, cold-blooded, and cowardly" actions.
During the murder investigation detectives conducted one of the force's largest trawls of CCTV footage.
Aaron Kahrod, 21, who was also on trial for murder, was found not guilty.
Det Ch Insp Chris Mallett said it was "a completely senseless attack on a man who had done absolutely nothing to warrant such violence".
Ammar Kahrod had admitted teasing Mr Brindley "about his girl" in a conversation covertly recorded by police, but said Mr Brindley had fallen on the knife.