Cancer-battle girl Isabella Lyttle has book published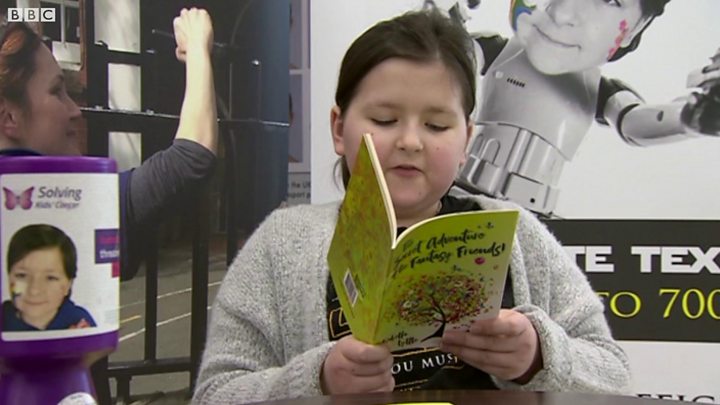 A 10-year-old girl fighting a rare cancer for the fourth time has written a book to raise money for potentially life-saving treatment in the US.
Isabella Lyttle, from Walsall, West Midlands, wrote her fantasy adventure book while being treated in hospital for neuroblastoma.
She was first diagnosed almost eight years ago, her family said.
They want to raise at least £150,000 to access the unlicensed treatment, which could eventually cost £200,000.
Isabella, whose favourite author is Roald Dahl, said writing the book - The Secret Adventure of the Fantasy Friends - helped take her mind off her time in hospital.
She said she wanted to write a fantasy story for children and the book was about a group of friends who go on an adventure "to make a person who isn't very nice into a nicer, better person".
"It was something to do while I was having treatment, and when I'm in hospital I don't feel great, and I got my laptop out so that gave me something to do," she said.
Isabella's father, Mark, said he was very proud of his daughter.
"She's a walking miracle," he said.
"The fact that she's beaten it three times and is still trying to beat it once and for all.
"If anyone can donate anything.... every £1 matters."
Isabella is preparing to undergo a special trial in London that hopefully will see her go into remission before she undergoes treatment in the US, which her family hopes will help stop the cancer returning.
What is neuroblastoma?
It is a rare type of cancer that mostly affects babies and young children
It develops from specialised nerve cells (neuroblasts) left behind from a baby's development in the womb
It affects about 100 children each year in the UK
The cause is unknown
In very rare cases children in the same family can be affected, but generally neuroblastoma does not run in families
Source: NHS Choices
Fewer than 100 children in the UK are diagnosed each year with neuroblastoma and most living with the condition are under the age of five.
Six-year-old Bradley Lowery's fight against the condition touched the lives of many people, before he died last July.
The families of children with the disease often turn to specialists in America and Europe who offer different trials when treatments like chemotherapy, surgery, radiation therapy or stem cell transplants do not work.