Cash debt killer gets 24 years for Birmingham murder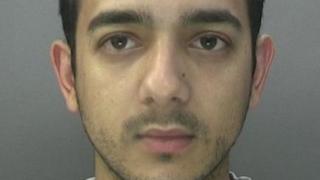 A man who stabbed his neighbour to death to avoid repaying a debt of thousands of pounds has been jailed for at least 24 years.
Sajad Hussain bled to death on his doorstep, with his unaware relatives inside the house, after being stabbed by Haroon Rafiq.
The 24-year-old of Tenby Road, Moseley, Birmingham, was found guilty of murder and jailed for life.
Rafiq lured Mr Hussain to his death on the pretence he was repaying his debt.
Midlands Local Live: Birmingham among worst UK cities for rush hour traffic; The suffragette who spoke out against force-feeding
Three days after the killing on 6 August 2017, he confessed to a Police Community Support Officer (PCSO).
Father-of-one Mr Hussain, 40, was stabbed in the chest and chased by Rafiq before he was stabbed again on his doorstep.
Birmingham Crown Court heard how Mr Hussain contacted Rafiq on several occasions to arrange a meeting to repay the debt of several thousand pounds.
Rafiq met his victim near his home in Tenby Road and said he would walk to a cash machine to withdraw the money but had no intention of paying up.
Rafiq − who bought a new knife to kill his victim − disposed of his blood-stained clothes and the weapon near the River Cole before returning to his home just a few doors away.
Det Insp Paul Joyce from West Midlands Police said: "This awful attack has resulted in a family losing a loved one in an extremely violent, sustained and unnecessary attack.
"I can only hope that knowing his killer will spend much of his life behind bars acts as some comfort to Mr Hussain's family and friends."