Clash roadie Don Lorenzo arrest: Misconduct probe will not go ahead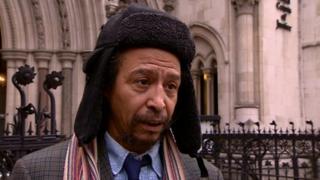 A musician racially abused and assaulted by police has said he wants a public apology after being told a hearing into officers' conduct will not go ahead.
Ex-drummer and Clash roadie Don Lorenzo, now 65, said he could still remember officers' "viciousness" during his arrest in Birmingham in 2007.
Police watchdog IOPC said "the passage of time" had hindered the proceedings.
West Midlands Police spoke of "significant legal issues".
It said these meant that the hearing could not go ahead.
Events started when officers were called to Mr Lorenzo's Edgbaston flat after his daughter alleged he had assaulted her. She later withdrew the claims.
He said he was pushed down five flights of stairs by officers, and then taken to Bournville Lane police station where he was held in a cell for 23 hours and where he was racially abused.
He also said officers colluded in their witness statements.
An investigation by West Midlands Police's professional standards department found officers had no case to answer, but Mr Lorenzo took civil action and was awarded damages.
West Midlands Police then took its appeal to the Royal Courts of Justice, but judges found in Mr Lorenzo's favour.
The police watchdog, then called the IPCC, ordered police to carry out investigations into eight of its officers as well as a member of police staff.
Mr Lorenzo's case
November 2007: Police arrest Mr Lorenzo at his Edgbaston flat over an assault allegation, later withdrawn. Mr Lorenzo is charged and found guilty of assaulting an officer in custody - his conviction is later quashed on appeal
2008: An investigation by West Midlands Police's professional standards department finds its officers have no case to answer
October 2011: After proving his innocence, Mr Lorenzo pursues legal action and a jury at Birmingham County Court finds he was assaulted and racially abused by officers
December 2012: West Midlands Police fails in its appeal against the judgement at the Royal Courts of Justice in London
June 2013: The IPCC decides to investigate Mr Lorenzo's treatment in 2007 and the 2008 internal investigation. The investigation takes three years
October 2016: IPCC decides eight police officers and one member of police staff will face misconduct proceedings
November 2017: IOPC agrees with West Midlands Police proceedings should not go ahead
But in November it agreed with police that the misconduct hearings should not go ahead.
In a statement West Midlands Police said: "A number of significant legal issues were identified, including matters relating to the passage of time, which would have in all likelihood led to proceedings being halted.
"For that reason it was agreed, in conjunction with the independent investigators, that misconduct hearings could not go ahead."
Mr Lorenzo, who suffered wrist injuries in his arrest, said: "I don't like answering my door anymore. The first thing I think is, 'it's the police'.
"I still have nightmares; I'm reliving it, day in, day out. I give myself credit, because I haven't crumbled.
"But having an apology would help to me to feel like going through all of this was worth it."
Labour MP for Edgbaston, Preet Gill, said she would write to the Police and Crime Commissioner seeking an apology from West Midlands Police.