Dark web paedophile Matthew Falder blackmailed victims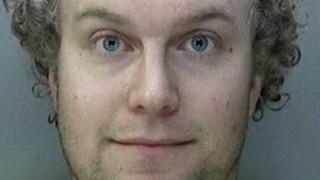 A "highly manipulative" paedophile, described as one of the UK's worst, blackmailed his victims into performing degrading acts, a court heard.
Cambridge graduate Matthew Falder made people photograph themselves, before sharing the images on the "dark web".
Falder, 29, of Edgbaston, Birmingham, admitted 137 charges at crown court in October, including encouraging the rape of a four-year-old boy.
His sentencing hearing gives the first details of his crimes.
The former Birmingham University geophysicist researcher used the online names "666devil" and "evilmind" on websites like Gumtree to find victims.
He would blackmail them with a "constant stream" of increasingly depraved requests.
Three of his victims attempted suicide.
Opening the case, Ruona Iguyovwe said Falder got victims "to produce increasingly severe self-generated indecent images of themselves, the focus of these images being to humiliate and degrade the victims".
Ms Iguyovwe said once he had compromising images of his victims, he told them to send him more material or he would share images with their friends and family.
He told one to "choose carefully", or he would "send the images to everyone on Facebook associated with your school, and in letters to your parents and teachers, explaining with printouts of all the pictures that you will strip for money".
The hearing was told he also forced another victim to lick toilet seats and eat dog food.
Falder distributed the images on websites known to be associated with paedophiles and those interested in "hurtcore", material which depicts rape and abuse.
The court heard he posed as a female artist, sending images of previous victims, pretending they were him.
When some victims threatened to tell parents or police, "sophisticated" Falder bragged "I can't be caught", using anonymous email accounts and software to cover his tracks.
Falder was snared after an investigation led by the National Crime Agency (NCA) with help from GCHQ, the FBI, and law enforcement in Israel, Slovenia, Australia and New Zealand.
He also previously admitted charges of causing the sexual exploitation of a child, making and distributing indecent images of children and voyeurism.
'Exceedingly brave'
Describing the impact of Falder's actions, one of his victims told the court: "I feel dirty, like used goods."
In a statement, the victim said her traumatic experiences had triggered the breakdown of relationships with her parents and boyfriend, and forced her to leave home.
"Part of me believes that's all I am good for anymore - to be abused," she said.
Judge Philip Parker QC told her she was "exceedingly brave" for coming to court.
The hearing continues.