Don Lorenzo assault: Preet Gill calls for police apology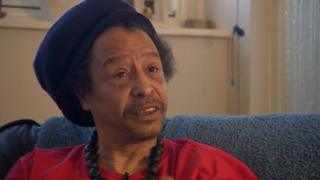 An MP has called for West Midlands Police to answer "urgent" questions over the assault of a man during his arrest in 2007.
Don Lorenzo, 65, was dragged downstairs and punched at his Edgbaston flat as he was being arrested for assault.
West Midlands Police said there would be no misconduct hearings, citing "significant legal issues".
Labour Edgbaston MP Preet Gill said an "apology is the least Mr Lorenzo deserves".
'Lessons learnt'
In a letter to Police and Crime Commissioner David Jamieson, she said: "I would like reassurances from you that you support such an apology being issued and that you will be speaking to the Chief Constable of West Midlands Police about this issue as a matter of urgency."
In response, Mr Jamieson said "lessons should be learnt" from the case.
He said that the force's chief constable, David Thompson, would be asked questions over the incident at a public meeting on 20 February.
Midlands Live: Masked men force their way into house; Police stand-off closes road
Mr Lorenzo said that during his arrest officers kicked and punched him, pushed him down five flights of stairs and held him in a cell for 23 hours.
Allegation withdrawn
He said he was racially abused at Bournville Lane police station where he was being kept in custody.
Mr Lorenzo had been arrested on suspicion of assaulting his daughter, although she later withdrew the allegation.
In 2008, West Midlands Police's professional standards department found officers had no case to answer. Mr Lorenzo took civil action and was awarded damages.
Police then appealed to the Royal Courts of Justice where judges found in Mr Lorenzo's favour. Police watchdog the IPCC ordered police to investigate eight officers and a member of staff.
Clash roadie
But in November 2017 it agreed with police that the hearings should not go ahead.
Mr Lorenzo, a former drummer who was once a roadie with The Clash, suffered wrist injuries in the assault which meant he could not work in bands again.
He said: "It was just unreal. This is about telling the truth, dealing with faults and failures."
Community activist Desmond Jaddoo said: "It just goes to prove nothing has changed in the treatment of black men by police."
West Midlands Police confirmed it had nothing to add to its previous statement on the case.