Drunken gunman jailed for firing at Birmingham bar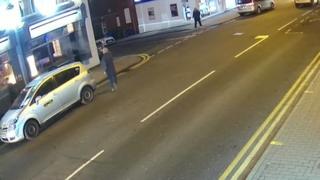 A drunken gunman who fired at a crowded Birmingham pub after being turned away has been jailed.
Police have released the footage of 42-year-old Lee Embley fleeing after firing shots at the Harborne Stores in Harborne, before being arrested at gunpoint.
He pleaded guilty to nine charges and was sentenced to eight years for firearms and ammunition offences and another year for dangerous driving.
Police said Embley was "reckless".
The offender, of no fixed address, was jailed on Monday at Birmingham Crown Court and also handed a six-year driving ban.
The court heard how he opened fire after becoming angry at door staff who refused him entry to the bar.
He was escorted away, but returned with a black revolver, firing a shot through the window of an upstairs bedroom.
The offender then got into his car and drove off.
West Midlands Police firearms officers spotted him in nearby Lordswood Road, driving at speeds of up to 80mph.
Footage from the officers' body cameras show how they spotted the Colt .41 double action revolver, made in around 1912, lying on the road next to Embley's car.
Embley told police he had drunk eight cans of strong cider and sixteen measures of brandy before the shooting, which began at about 21:05 on 13 January.
Det Con Ian Leech said: "This was a completely reckless shooting which could have resulted in the death of an innocent bystander.
"Embley put further lives at risk by driving while massively over the limit and it is by luck rather than fortune that no-one was seriously hurt or killed.
"Thanks to the excellent police work by the two firearms officers we have taken another weapon with the potential to kill off the streets."