Show goes on at Birmingham Rep despite 'explosion'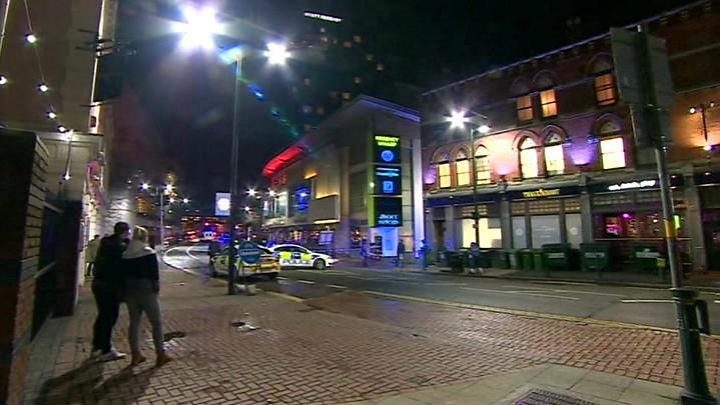 Actors finished their scene in a performance at the Birmingham Rep despite hearing what sounded like an "explosion", a theatre-goer said.
The theatre was evacuated on Tuesday night after a "technical fault" caused the loud bang in the basement.
Thomas Lancaster, who was watching Brief Encounter, said: "The actors just continued, finished off their scene, the curtains came down."
Nobody was hurt and the Rep said the evacuation was "precautionary".
A spokesperson for the theatre confirmed the venue would be open as usual on Wednesday evening.
However, the building is without heating, hot water and toilets may also be closed.
Visitors will be offered free bottles of water and toilet facilities will be available at the neighbouring Symphony Hall and ICC, the spokesperson added.
Recalling hearing the noise, Mr Lancaster said: "Suddenly this loud bang was heard, it was very clear to me, I was sat near the front of the auditorium."
Mike Olley, manager of Westside Management Improvement District, said: "It was a damn great noise.
"It's not definitive whether it was a generator or a boiler going off, but it was a big boom, there's no doubt about it."
Ch Supt Danny Long, from West Midlands Police, said it was "initially unclear" what had caused the explosion at the theatre in Centenary Square, off Broad Street.
It was "a very confusing situation," he added, praising the "brilliant" response of the public and emergency services.
Earlier reports the city's Symphony Hall was also evacuated were incorrect and the performance from singer-songwriter Sam Beam went ahead as scheduled.
Audiences evacuated mid-show from the Rep on Tuesday will be offered a refund or a ticket exchange.
The Library of Birmingham, which shares its space with the theatre, has been closed due to "technical issues" caused by explosion.