Birmingham gang jailed for firearms offences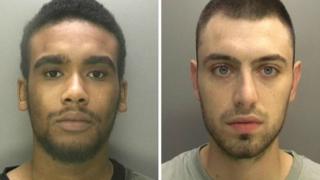 Gang members who were found with a sawn-off shotgun and live rounds of ammunition have been jailed after police discovered forensic evidence on a pink sock.
The four men and a 16-year-old boy, who cannot be named, were jailed for a total of more than 40 years at Birmingham Crown Court on Friday.
West Midlands Police decoded text messages linking the group to crime.
Officers said the case was a "wake-up call" for gangs.
During an early morning raid at a south Birmingham property in June, officers discovered a pellet pistol converted to fire live rounds and a sawn-off shotgun in a bag.
Arrested at the scene were Reece Brivitt and a 16-year-old boy after, police said, they hurled bags of ammunition and firearms out of a bedroom window.
A pink sock containing gun cartridges was also found there. The force said examination of the sock revealed a forensic link to gang member Jamael Scarlett.
In July, officers raided another property where Courtney Farrell was arrested on suspicion of drugs offences.
Police later raided his home and seized mobile phones.
Messages on them, the force said, linked the gang members to Jamaal Ahmed and revealed how they were using a property as a store for guns and ammunition.
Ch Insp Nick Dale said: "[The sentences] should act as a wake-up call to anyone who believes gang life is somehow lucrative or attractive."
The gang members were convicted at an earlier hearing.
Their crimes included:
Jamael Scarlett, 21, of Westminster Road, Handsworth: Three counts of possessing firearms and ammunition - jailed for 16 years
Courtney Farrell, 21, of Blackmoor Croft, Sheldon: Three counts of possessing firearms and ammunition - jailed for nine years
Jamaal Ahmed, 23, of Westminster Road, Handsworth: Conspiracy to supply guns - jailed for six years
Reece Brivitt, 24, of Bedlam Wood Road, Birmingham: Four counts of possession of ammunition and firearms - jailed for seven-and-a-half years
16-year-old boy, who cannot be identified: Possession of ammunition and firearms - to spend three years in a young offenders institution