'Hero' fireman rescues woman after volcano-crater fall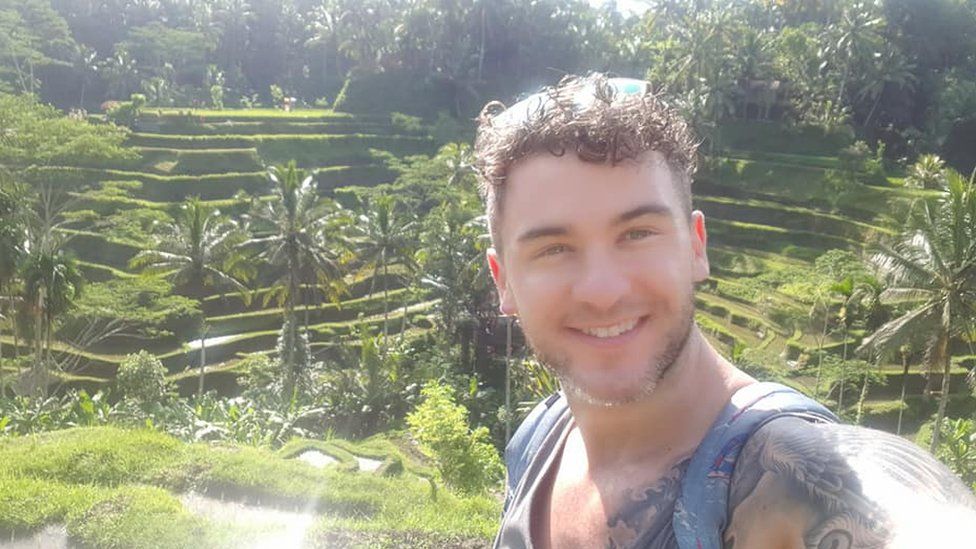 A holidaying firefighter helped save the life of a woman who fell into the crater of an active volcano.
John Conway, 33, leapt to the woman's aid when she fell 40m (131ft) from a viewing platform during a trek to the top of Mount Batur in Bali, Indonesia.
The Birmingham-based firefighter spent more than six hours caring for the woman and helped carry her 1.7km (5,600ft) down the volcano.
Mr Conway said it was a "miracle" the woman survived her injuries.
The Highgate firefighter is on a backpacking holiday celebrating his birthday and was taking part in a sunrise trek on Saturday when the woman fell.
He said: "She was clearly in a very bad way. She was bleeding a lot and turning blue."
Despite only having wet wipes, tissues and tape, he spent 30 minutes stemming the woman's bleeding, before being joined by nurse Dorina Agache from Dublin.
He said: "That was a massive relief.
"We both bounced off each other, making sure she stayed conscious and her condition didn't worsen for the next six to seven hours."
Fellow travellers gave the woman clothes to keep her warm and formed a human chain to lift her out of the crater with a stretcher, which took an hour.
Then they had a five-hour journey to the bottom of the volcano.
Mr Conway and Ms Agache travelled with the woman to hospital where she was found to have a fractured spine, fractured ribs and a serious head injury.
Mr Conway said: "Given the state in which we found her, and the extent of her injuries, it's a miracle she survived."
The woman remains in hospital, and Mr Conway is in contact with her.
He said: "Even now, I'm still going through the events as it was all unreal."
Related Internet Links
The BBC is not responsible for the content of external sites.