West Bromwich MP Adrian Bailey attacked by hooded gang on his way home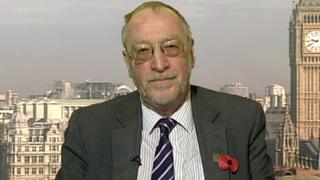 An MP was set upon by a gang of robbers who jumped on him and attacked him before stealing his wallet and phone.
Adrian Bailey, Labour MP for West Bromwich West, was on his way home from Parliament on Tuesday night when as many as six people targeted him.
He was left bruised after he fought off one person who jumped on his back and when he was hit over the head with a large milk container.
The Metropolitan Police said no arrests have been made.
Midlands Live: Teen's nightclub death caused by drugs; Police reinforcements join Wolverhampton murder probe
After the attack Mr Bailey went to his Southwark home and called police.
The 72-year-old said after the first person jumped on him from behind, another then attacked him and a third person went past him on a bike and blocked his exit.
After calling for help, he thought someone nearby was coming to help, but instead they turned out to be another attacker.
During the robbery he received a number of blows and was hit over the head with a large milk container, leaving him "badly shaken up", he said.
"I appreciate that many other people have gone through what I went through last night and it really brought home to me the value of having bobbies on the beat to deter such attacks," he said.
"Every member of the public deserves the right to walk about in a safe and non-threatening environment.
"The Metropolitan Police response has been excellent and they are working hard with me to identify the perpetrators of this attack."
The force said officers were called to Crampton Street, in Southwark, at 22:26 GMT to reports of a robbery earlier in the evening resulting in a man being assaulted.
"The suspects made off with several items of property belonging to the victim who sustained minor injuries." a spokesman said.