Chelmsley Wood locals band together to open chip shop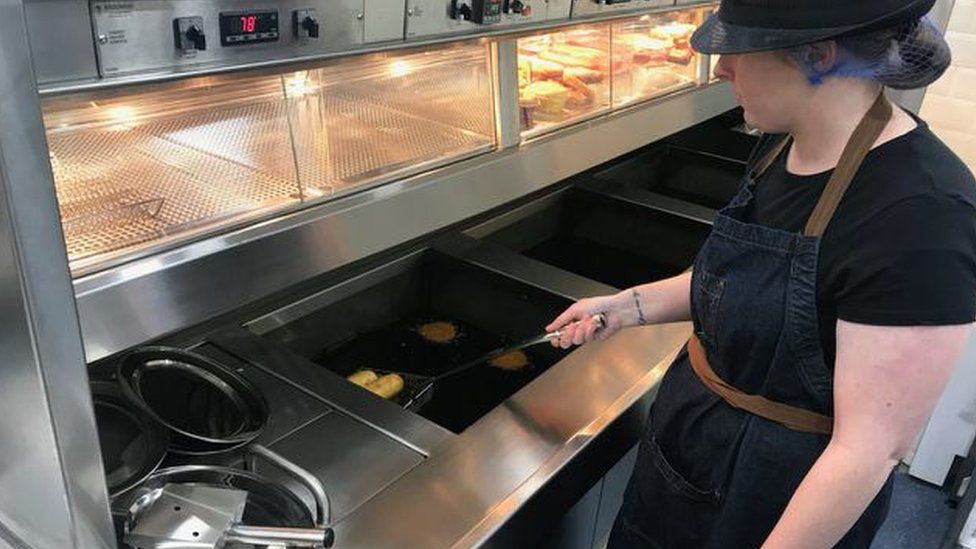 Things have just got "batter" for a community waiting years for fish and chips.
To make it happen, people power was among the ingredients - with a collection of community groups launching a not-for-profit chip shop on Thursday.
Chelmund's Fish and Chips, in Chelmsley Wood, near Solihull, is owned by the groups that run it.
They plan to give work to people who have previously been unemployed.
Once the social enterprise shop has covered costs, profits are set to be reinvested into local community projects.
One local queuing for food during Thursday's grand opening said a chip shop was long overdue in her part of the borough.
"They took all our shops and things away five years ago and they forgot to put them back.
"I've waited five years for my fish and chips."
She said: "Coming this way, with people getting together, and the wanting to put back in to the community is wonderful.
"This brings us together. And [fish and chips] is the icing on the cake."
The shop is run by community centre Three Trees; business support group Development in Social Enterprise; community cafe Olive Branch Kitchen; and Churches on Chelmund's Cross.
Neil Roberts from Chelmsley Wood Baptist Church is one of the partners and says while the shop is a business rather than a charity, money made after costs are covered will go towards community events, youth projects or groups for older people.
The concept, he said, was first floated in 2015 and, when units were spotted being built in the area, "we thought 'someone will put a chippy in there; why not us'?"
He said: "Everyone's very excited about it and local people have been waiting for it."
Head chef, manager and local Mitchell Sheriff joined when his wife told him about the project.
He said: "I felt compelled to get involved. It's very important to the community, especially for this area."
Related Internet Links
The BBC is not responsible for the content of external sites.