Man shot in head during 'brutal' attack in West Bromwich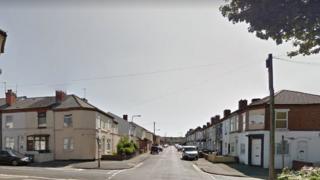 A man was shot in the head during a "brutal attack" by three masked men who demanded his car keys and cash.
The man was sitting in his car in Burlington Road, West Bromwich, on Thursday evening when he was dragged from the vehicle and attacked.
"He saw a flash and could not recall what happened after that," said a police spokeswoman.
The 28-year-old was treated in hospital for a gunshot injury which was serious but not life-threatening, she added.
Det Sgt Chris Jones, of West Midlands Police, said: "This appears to be a very violent unprovoked attack, which could easily have had tragic consequences."
Any witnesses were urged to call the force or Crimestoppers anonymously.