Birmingham Football Lads Alliance demo: Thousands march in city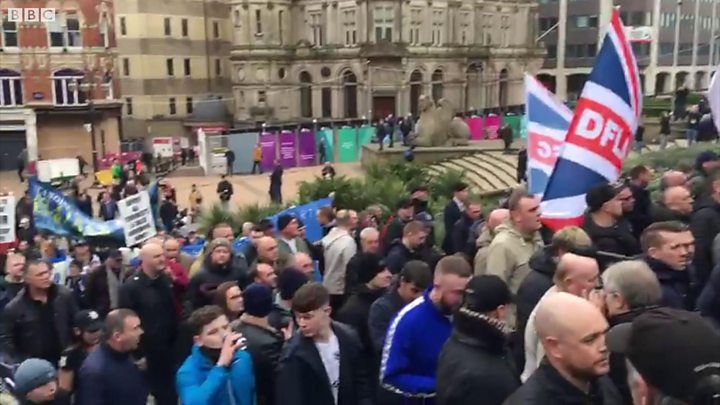 An estimated 5,000 people have gathered in Birmingham for marches organised by the Football Lads Alliance (FLA).
The FLA and the Democratic FLA (DFLA) organised two demonstrations against terrorism and extremism.
The DFLA was also marching for Justice4the21, which supports the families of victims of the 1974 Birmingham pub bombings.
Spokeswoman Julie Hambleton announced the families were denied legal aid for the sixth time on Friday.
Ms Hambleton told the crowd of more than 2,000 people in Victoria Square the families were "literally having to beg for equal rights and equal funding" in order to challenge a coroner's ruling not to name suspects in new inquests.
English Defence League (EDL) founder Tommy Robinson joined about 3,000 FLA marchers at Curzon Street near Millennium Point. The group claims to be a movement uniting "the football family against extremism".
There has been an increased police presence in the city and a number of roads were closed.