Birmingham and Solihull 'ride out' group appear in court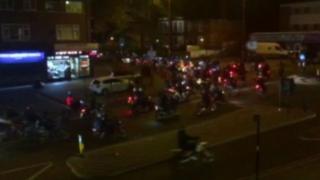 Nine men have appeared in court accused of being involved in an illegal "ride out" across Birmingham and Solihull in 2016.
Six of the men pleaded not guilty to a public nuisance charge at Birmingham Crown Court on Thursday.
Two delivered not guilty pleas at an earlier hearing. All were granted unconditional bail.
One other man also appeared in court on Friday but has not yet given his plea. He remains in custody.
The trial of those who gave not guilty pleas is due to start on 28 August at Birmingham Crown Court.
Those who appeared in court on Thursday and gave not guilty pleas were:
Brothers Geordie, 27, and Keanu West, 21, both of Frankley Beeches Road, Northfield
Jermaine Saa, 27, from Marksbury Close, Wolverhampton
John Murphy, 33, Beechdene Grove in Erdington
Jordan Harris, 20, Rilstone Road, Quinton
Ryan Pointon, 26, Oak Road, Oldbury
Ethan Nerwall, 20, of Fairford Road, Erdington
Robert Roye, 25, of Livingstone Road, Handsworth, and Ryan Wilson, 23, of Lightfoot Road, Uttoxeter, both pleaded guilty to the public nuisance charge and were granted unconditional bail at an earlier hearing.
They will not be sentenced until the conclusion of their co-defendants' trial.
Matthew Sidwell, 29, of no fixed abode, appeared in court on Friday but did not give a plea. He is due back in court on 25 May.
The 26 June so-called "ride out" event allegedly saw off-road bikers "run amok" on the region's roads during what West Midlands Police officers described as a "five-hour rampage".
The force said the bikers have been "riding recklessly, pulling stunts and intimidating other road users".