Library of Birmingham to reopen after glass crack fix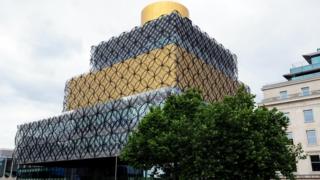 The Library of Birmingham which closed after damage was found in its roof is set to reopen.
The library, which has been open for nearly five years, shut early on Friday after a cracked glass pane was found in its atrium, managers said.
"Experts have confirmed that the pane is safe but we will be replacing it ASAP," the library management tweeted.
The library will reopen on Tuesday. Its express service is open downstairs from 1700 to 21:00 BST today.
The express service includes access to a study area, the return of books and special collections.
Midlands Live: Car ploughs into rescue vehicle on hard shoulder; Hospital to open £2.2m chemotherapy unit
All classes at Brasshouse Language centre, located inside the library, were cancelled on Monday.
The Library of Birmingham is believed to be Europe's largest public library and houses one of the UK's most important Shakespeare collections.