Coroner review over "vulnerable" Birmingham man's death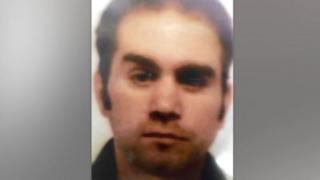 A coroner is calling for a review of mental health practices after a man was found drowned behind a psychiatric hospital.
Gary Parfitt, 41, a fork-lift driver of Kingshurst, Birmingham, was allowed to leave The Oleaster unit in October. His body was found nearly a week later.
His family have demanded lessons be learned.
Coroner Emma Brown gave a narrative conclusion and said she would be writing to Birmingham City Council.
Cause of death was drowning and ketoacidosis as a result of excessive alcohol consumption.
Birmingham City Council said Mr Parfitt's death was a "tragic loss".
An inquest at Birmingham Coroners' Court on Friday heard how Mr Parfitt was last seen alive on 16 October.
He had called the police after he began experiencing psychotic episodes and was taken to Heartlands Hospital. He was recommended to have a full mental health assessment there, but one never took place.
Instead, he was referred to The Oleaster psychiatric unit. A report concluded this should never have happened while he was still awaiting assessment.
Once at the unit, he told staff he wanted to go home and photos shown in court revealed how a nurse showed him how to exit the building by pushing a button to release the door. Staff did not attempt to detain him under the Mental Health Act and dialled 101 instead 999 when they realised he had departed.
Miss Brown said: "This was a serious failing resulting from the nurse's involvement. Had greater efforts been made, he would not have died."
Mr Parfitt left the unit wearing just shorts, a vest and a hospital blanket.
Miss Brown said she was writing to the local authority, which provides doctors to carry out mental health assessments across the West Midlands, to look into issues relating to the delay in arranging Mr Parfitt's assessment.
Mr Parfitt drowned in Bourn Brook stream, just 200 metres from the unit, the inquest heard. His body was discovered on 22 October, three minutes after police launched an official search.
Mr Parfitt's parents, Raymond and Annora, said: "If our vulnerable son's needs had been met, he might still be alive today".
Miss Brown said: "It is not the first time that delays in making mental health assessments may have led to someone's death."
In a statement, the Birmingham and Solihull Mental Health NHS Foundation Trust said: "We fully accept the findings of the coroner's inquest.
"A thorough internal investigation by the trust has led to actions being completed within the service concerned." 
A spokesman for Birmingham City Council said: "We are fully committed to learning with our partners from the NHS to ensure the best possible services."