Bleeding horse dumped in road after Wolverhampton crash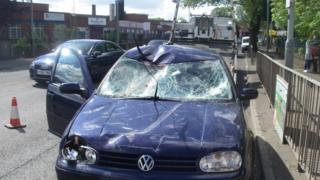 A horse was left "bleeding profusely" in the road after it bolted and collided head on with a car, the RSPCA said.
Its owners are thought to have left the scene following the collision, according to the animal charity.
The horse suffered open wounds but is recovering in RSPCA care.
The seven-year-old mare was part of a procession in Wolverhampton on Sunday, which included several traditional horse-drawn carriages.
The procession was going along Great Bridge Road, in Bilston, when the horse is thought to have bolted.
Warning: Pictures some people might find distressing follow
The impact of the crash smashed the windscreen of an oncoming vehicle and left the mare lying in the road. The family in the car were unhurt but the car was badly damaged.
RSPCA Inspector Vicki Taylor said: "The horse was lying in the road and bleeding where the smashed windscreen had cut into her front and legs.
"This was a shocking sight and she was clearly suffering."
Insp Taylor added: "When I arrived, the men with the horse had already left.
"It must have been a shock to be involved in an accident like this but these men essentially abandoned this horse to die."
She added: "Thankfully there are no obvious broken bones and the equine vet is positive she will recover despite the open wounds which may take a while to start healing."
The charity has asked for anyone with information to come forward.