Man jailed for role in Birmingham 'drugs turf war'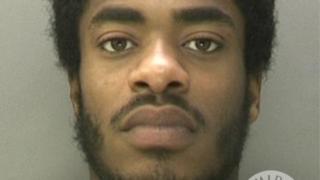 A man involved in a daytime drive-by shooting as part of a "drugs turf war" has been jailed.
D'Anglo Smith, 21, was accused of driving his girlfriend's car into Tew Park Road in Handsworth, Birmingham, on 21 July last year with a gunman who fired at people inside a Renault Clio.
He was jailed at Birmingham Crown Court for a minimum of 15 years.
"Smith and his associates spread fear and violence on the streets", the Crown Prosecution Service (CPS) said.
He was sentenced to 15 years imprisonment for possessing a firearm with intent to endanger life and eight years for transferring a prohibited weapon and ammunition, after being found guilty of both charges in May.
Smith also admitted possessing controlled drugs and was jailed for an additional two years.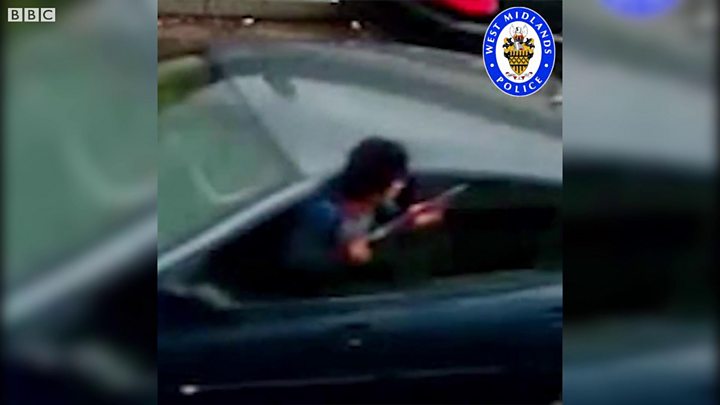 Smith, of Sycamore Road, Handsworth, admitted being the driver of the Seat Ibiza but denied acting with or encouraging the passenger to fire a gun.
During the trial, the court heard Mr Smith was a drug dealer likely to have been involved in a drugs turf war and would have had access to weapons.
West Midlands Police said he claimed he had offered an unknown man a lift and was threatened at gunpoint to pursue the Clio.
The CPS said that in September 2017, Smith was driven to a barber's shop in Handsworth carrying a bag containing a revolver and ammunition which he passed to an associate.
He was also caught with a quantity of crack cocaine on his arrest in November.
Warren Stanier, of the CPS, said: "D'Anglo Smith was not only willing to be part of a group who were involved in a daytime drive-by shooting, but he was active in providing a weapon, ammunition, and dangerous drugs to others."
Officers are still trying to trace the gunman.