Laser pen attacks on planes landing at Birmingham Airport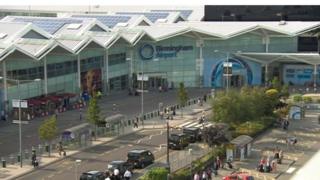 A spate of laser pen attacks on aircraft landing at Birmingham Airport is being investigated by police.
Six incidents where lasers were shone on planes coming to land at the airport took place during Sunday and Monday evenings.
The laser beams are thought to have been shone from the Sheldon or Yardley areas between 21:00 BST and midnight.
Aiming a laser pen at aircraft can have disastrous consequences, West Midlands Police said.
"These attacks are disorientating for the pilot making it impossible for them to focus on the instrument panel," the force added.
"This is extremely dangerous as even a momentary loss of control can be crucial."
Figures from 2016, show there were 73 laser incidents at Birmingham Airport.
Steve Landells, a flight safety specialist at the British Airline Pilots' Association, said figures remain "dangerously high" with an average of about "three laser attacks a day" in the UK.
He said: "Birmingham Airport experiences the fourth highest levels of laser attacks in the UK and recent incidents demonstrate this trend is not slowing down.
"Shining a laser at an aircraft is extremely dangerous and has the potential to cause a crash that could be fatal to not only those on board, but people on the ground too."
A spokeswoman for Birmingham Airport said it took laser incidents "very seriously" and it was "working closely with West Midlands Police to deter and inform people of the associated risks."