Birmingham councillors back £31m tower block sprinkler plan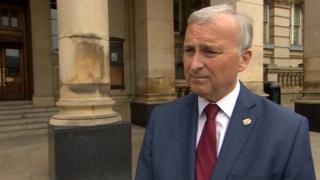 More than 200 residential tower blocks in Birmingham are to have sprinklers fitted after the city council re-approved plans to install them.
The work was to be carried out "as a matter of urgency" in light of the Grenfell Tower tragedy last year.
The £31m plan was temporarily halted when some councillors said decisions should be made on a case-by-case basis.
Leader Ian Ward said it was "clear no other system can match this for prevention of deaths".
Experts including the chief fire officer of the West Midlands and the commissioner of the London Fire Brigade had also endorsed sprinklers, he said.
Mr Ward said it was "regrettable" that Prime Minister Theresa May had indicated no money will be made available centrally for councils to retrofit the sprinklers after he sent a cross-party letter requesting funding earlier this year.
The Labour-run authority wants the government to cover £19.4m, otherwise it will have to rely on borrowing as there is not enough money available in the budget, he added.
The devastating fire in North Kensington, west London last June claimed 72 lives.
A public inquiry into what happened is under way.
A spokesperson for the Ministry of Housing, Communities and Local Government said: "Following the Grenfell Tower fire, we have been working with councils and fire services to help building owners take immediate steps to keep residents safe.
"If a local authority has concerns about funding essential fire safety measures, they should contact us to discuss their position."
It was also confirmed - in the first meeting of the council's new cabinet - that none of the council-owned tower blocks in the city has the controversial type of cladding used on Grenfell.