Birmingham flash flooding: Why have homes been damaged again?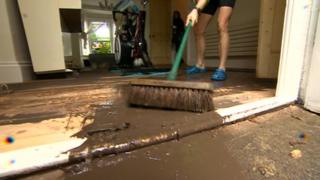 Parts of Birmingham were put under water over the bank holiday weekend as storms brought flash flooding to areas of the city.
For some, it is the third time in less than a decade that their homes have been damaged.
The Environment Agency has confirmed a multi-million pound flood defence scheme for Selly Park North is behind schedule.
But why are areas of the city so prone to flooding?
What happened this time?
Parts of Birmingham saw more than a month's rainfall in an hour on Sunday.
Joe Cuthbertson, from the Environment Agency, believes surface water flooding, caused by the sheer volume of water falling, is to blame for the problems in the city.
Houses in Selly Park and Selly Oak were badly affected. Resident Stu Dunigan said water was above waist height, with cars almost submerged on the street.
And it isn't the first time such an event has occurred.
What happened before?
It is the third time in nine years that the street has flooded, the last occasion being two years ago.
More than 100 homes were flooded in June 2016, causing some residents to leave their houses. Some had only recently returned prior to Sunday's floods.
David Stephenson said this time, the water was slightly higher than two years ago - a flood caused by surface water.
"We only had the work finished from the last flood not so long ago," he added.
The weather
One major route in the city was rendered impassable by water up to 5ft (1.5m) deep.
The Met Office said a site at Winterbourne, in Edgbaston, recorded 58mm of rainfall in just one hour on Sunday afternoon, and 81mm in a 12-hour period.
The monthly average for the West Midlands region in May is 55mm, the office's Craig Snell explained.
But he said the torrential rain had been "very localised", pointing out that another site 10 miles away at Coleshill recorded just 3mm of rain in 12 hours.
The Environment Agency issued multiple flood warnings and alerts covering much of central England.
What is being done about it?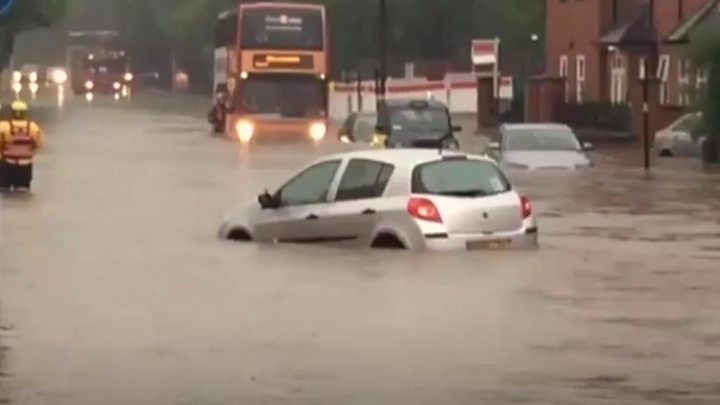 The agency is spending millions of pounds on two flood defence schemes in Selly Park.
One, in the south, is operational and local councillors said it protected some homes from rising waters at the weekend.
But the agency admitted a second scheme in Selly Park North has suffered delays.
Councillor Brigid Jones, deputy leader of Birmingham City Council, said: "The one in Selly Park North... is nowhere near finished and we've got to ask big questions why."
The agency said it will be speaking to residents to find out more about the flooding, adding the majority of its defences work against rivers, not surface water, while the council will also look at what more could be done.
Mr Cuthbertson said initial indications were that the Selly Park South scheme held and "worked well".
But he said the project in Selly Park North was being reviewed because it had been "slightly delayed", but because the flooding came from surface water, it may not have helped.
"We are investing £65m up to 2021 in flood schemes to protect many thousands of properties across the West Midlands," he added.
What could be to blame?
Mr Cuthbertson said it has been a "really significant flood event for areas that have been affected before."
"The rainfall levels, I don't like to use the term unprecedented too often but, we did see over a month's worth of rain in some places in a very short space of time so flooding was inevitable," he added.
"A lot of flooding happened before the water made it to the river, known as surface water flooding or flash flooding and really, in those sort of circumstances we are sometimes more limited in what we can do.
"We will of course review and look at what more might be possible to prevent further occurrences of this type."
He added: "It is, of course, extremely distressing for those who have had this happen several times."
What about the affected residents?
People living in Sir John's Road, Selly Park, have said they don't understand why more hasn't been done to keep their properties safe.
Resident Carol Webster added: "The Environment Agency were here and were saying how sorry they were but I can't see what they are doing. The flood management scheme they are working on is delayed."
And it is a problem all over Birmingham.
The home of Barry Froggett, who lives in Quinton - nearly five miles from Selly Park - has been flooded four times in 12 years. He was still cleaning up two days after the flood.
"I am still sitting here with all sewerage all over the house," he said.
"I tried to get in touch with people over the bank holiday, they said they are too busy.
"I'm just living out of a suitcase at the moment. Every time we have a downpour we are getting flooded."
Birmingham City Council said it is continuing to investigate why the flood water gathered so quickly and confirmed it will be looking into the drainage issue raised by residents.