Boy, 15, dies after Wolverhampton street stabbing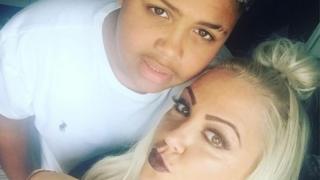 A 15-year-old boy who died after being stabbed just yards from his home in Wolverhampton has been described as an "angel" by his grandfather.
Keelan Wilson was found following reports of disorder between a group of youths in Langley Road, Merry Hill, at about 23:00 BST on Tuesday.
He was taken to hospital where he later died. West Midlands Police said it had launched a murder investigation.
George Ellitts said Keelan had raised money for charity and loved cars.
Speaking outside the family home, the boy's grandfather added: "To me, he was an angel.
"They were all supposed to be going on holiday a week tomorrow, to Egypt.
"He's lived with me all my life.
"He raised a few hundred pounds for Great Ormond Street Hospital a few years back, he had his hair cut, he had the lot off."
Mr Ellitts said the teenager's mother Kelly, who also lived at the address just a few metres from the scene of the attack in Strathfield Walk, was "in a bad way".
Keelan was due to turn 16 in July, he added.
Det Ch Insp Chris Mallett said: "A young boy has tragically been killed and we are determined to find out why this has happened."
He described the death as a "terrible loss" adding the boy had his life ahead of him and officers would be "working round the clock" to find who was responsible.
The BBC's Sarah Bishop said a taxi driver, called to the road to pick up a fare on Tuesday night, told her he saw about four youths approach Keelan and his friend, armed with knives.
The taxi driver was wounded in the incident and was taken to hospital with a hand injury. His car remains at the scene and has been cordoned off by police.
Neighbours have also told the BBC they heard a commotion outside their homes late on Tuesday evening.
At the scene - Phil Mackie, BBC News correspondent
We have spoken to the relatives of the victim who say he was due to start college in Birmingham in September.
He had also raised money for charity by having all of his hair cut off for Great Ormond Street Hospital.
The family we have spoken to here are absolutely devastated.
Neighbours have also said how shocked they are about what has happened, while West Midlands Police has pledged to catch those responsible as soon as possible.
West Midlands Ambulance Service said its crews arrived just after 23:00 to find Keelan with serious injuries.
"The team of ambulance staff worked quickly to begin administering advanced life support to him at the scene and this continued as he was transferred to New Cross Hospital," the spokesman said.
"Sadly, shortly after arrival at hospital it became apparent nothing could be done to save him and he was confirmed deceased."
CCTV in the area is being checked and detectives said they are following a number of active lines of inquiry and urged anyone with information to contact the force.
Ch Supt Jayne Meir, in charge of police in the city of Wolverhampton, said she wanted the cycle of violence to stop.
"This isn't unique to Wolverhampton and unfortunately it's not unique to the West Midlands, it's happening in cities across the country and we need it to stop," she said.
"But, if we don't stand together and do something about it, it will get worse and we can't do it on our own.
"We need the community to help us, we needs parents to help us and we need young people to help one another."
Knife crime has risen by 22% in England and Wales in 2017, figures by the Office for National Statistics show.
The West Midlands has the third highest rate of knife crimes per head out of police forces in England and Wales according to latest figures up to March 2017, behind West Yorkshire and the Metropolitan Police.