Birmingham shisha bar 'lets children inhale hippy crack'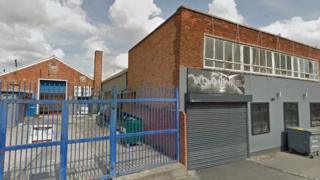 Children as young as nine have inhaled laughing gas provided by a shisha bar where the practice draws hundreds of youths at a time, police say.
The supply of nitrous oxide is illegal unless prescribed medicinally, but according to a police report, Birmingham venue Cloud Nine allowed 100 children to consume it in May.
Applying for a closure order, police said 300 youths also visited in April.
Cloud Nine has been contacted for comment.
The West Midlands force's application states "there is a clear pattern" of Cloud Nine, on Gooch Street North, putting "children at significant risk of harm by exposing them to psychoactive substances for financial gain".
A 24-year-old man from Birmingham has been arrested on suspicion of supplying psychoactive substances and released pending further investigation, says the Local Democracy Reporting Service (LDRS).
The report states that during a visit on 7 May an officer saw about 100 children aged between nine and 17 inhaling laughing gas - also known as "hippy crack" - from balloons and capsules.
The officer stated CCTV footage from the same date showed similar capsules appearing to be "dealt" by a Cloud Nine staff member from a car outside to a "number of young males".
Another officer reported seeing "hundreds of canisters" on the venue's floor.
The force says that "management and/or staff" have been "complicit in the sale or provision" of laughing gas to children.
On Easter Monday, there were about 300 youths at the venue, according to an officer who estimated them to be under 18, with some under 16.
She said the youths - whom she described as travellers - were surrounded by capsules, adding they told her the venue provided a "travellers-only, daytime, nightclub experience".
The police report says that based on CCTV, it suspects "similar behaviour" in February and in April 2017.
Magistrates upheld the West Midlands force's application on 23 May and issued a three-month closure order.
A council licensing committee will consider the police's report and decide on Friday whether to revoke the licence.