Mum of Wolverhampton stab victim Keelan Wilson 'devastated'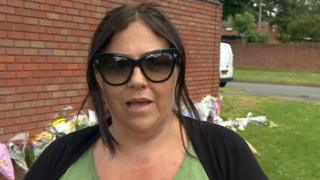 A boy who was fatally stabbed said "tell my mum I love her" when the ambulance was called, she said.
Keelan Wilson, 15, died shortly after being taken to hospital on Tuesday following reports of a fight on Langley Road, Merry Hill, Wolverhampton.
His pregnant mother Kelly Ellitts, 40, said her grief made her "want to go with him".
She said: "I feel like he needs me - he's still a baby."
Fighting was reported to police at about 23:00 BST and Keelan was fatally wounded just yards from his home.
"Our relationship was exceptional," Ms Ellitts said. "He was my world. We did everything together, we went everywhere together."
She said she was devastated Keelan would never meet her unborn child and added he adored his infant brother.
When the ambulance was called, she said, Keelan also asked for his brother to be looked after.
On Friday, West Midlands Police announced extra armed officers would be visible in Wolverhampton during the weekend "to reassure residents".
A force spokesperson said it was "aware of tensions between groups in some parts of the city".
Appealing for witnesses over Keelan's stabbing, Ms Ellitts said: "It's a struggle to breathe at times - I need [the culprits] to be caught."
She said: "No one knows how knife crime is going to affect them and it's absolutely devastating.
"It's okay to say 'we've got to try to stop this' but you have to try to actively do something to make it better and that doesn't seem to be happening."