Man killed in 'catastrophic' cooling pipe explosion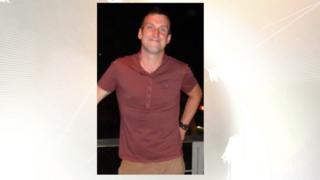 A man died in a blast at a metal smelting plant after a titanium ingot fell 20ft into a furnace, an inquest heard.
Aaron Johnston, 39, was working for Timet UK, on the Witton Industrial Estate in Birmingham, when the drop burst a cooling pipe causing a "catastrophic" explosion.
It happened the day workers had started using a new operating system.
The father-of-two, from Sutton Coldfield, died on 12 December, 2017.
The inquest, before an 11-person jury at Birmingham Coroner's Court on Monday, was told that gripping clips used to lift the eight-tonne ingot by crane were not level.
When it was lowered to be adjusted the ingot slipped down near to where Mr Johnston was working below.
Scott Marklew, teamed with Mr Johnston at the time of the incident, told the hearing: "There was a series of explosions and a lot of white smoke.
"I tried to get down the steps (to Mr Johnston), but I couldn't breathe. We had to evacuate."
He added he did not realise the explosion would be as catastrophic.
Flames and smoke captured on the firm's CCTV was shown to the victim's family during the inquest on Monday.
Coroner Louise Hunt said the titanium was being cooled by sodium potassium, "a volatile substance, which could cause an explosion" if mixed with oxygen.
She told a hearing: "The ingot slipped back into the furnace. The pipe work was damaged and there was an explosion. That is how Aaron lost his life."
Workers had started using a new crane operating system on the day of the tragedy, with a pendent control replaced by a joystick, the inquest was told.
The Health and Safety Executive has supported the inquiry into his death.
Mr Johnston was described by his wife Karen as a "fantastic husband", who would give "everything to others."
The inquest - expected to last until Wednesday - continues.