Smethwick Sikh soldier statue 'striking tribute'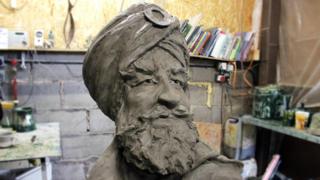 A 10ft bronze statue of a World War One Sikh soldier is to be installed in a high street to commemorate 100 years since the end of the conflict.
The Lions of the Great War monument, which will be installed later this year in Smethwick, West Midlands, will honour the South Asian service personnel who fought for Britain.
Sandwell Council called it a "striking tribute" to the community.
Sculptor Luke Perry said he is "incredibly proud" of the work.
President of the Guru Nanak Gurdwara in Smethwick, which is covering the cost of the statue, Jatinder Singh said: "These men volunteered to serve and fought to defend the freedoms we enjoy today.
"The memorial will ensure that this part is never forgotten."
The statue, depicting a Sikh serviceman carrying a rifle, will stand on a 6ft granite plinth with inscriptions that name the regiments in which South Asian soldiers served.
Sculptor Luke Perry said: "The importance of this monument both locally and nationally is huge.
"I am incredibly proud to be working on a sculpture that is, at its heart, a statement of gratitude."
You may also like:
The statue will sit between High Street and Tollhouse Way in a newly created paved public space including seating and lighting.
Sandwell Council leader Steve Eling, said: "I am very proud that Smethwick is paying such a striking tribute to the very important role played by South Asian service personnel during times of conflict."
The council said the statue will be installed in time for Armistice Day in November.
An adjoining green space, which hosts a memorial to inventor and steam power pioneer James Watt, is also set to be refurbished as part of the plans.
Preet Kaur Gill MP, chair of the All Party Parliamentary Group for British Sikhs, said the statue will recognise an "integral part of Sandwell's rich history".
In 2015, a national memorial to Sikh soldiers who fought during World War One was unveiled at the National Memorial Arboretum in Staffordshire.