Feuding Walsall families handed 18 banning orders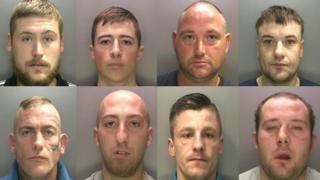 Two feuding families have been banned from associating with each other and entering parts of Walsall, police said.
Civil injunctions were served to 18 men suspected of being involved in violent disorders, criminal damage and anti-social behaviour in the West Midlands town.
Police secured eight full injunctions and 10 interim civil injunctions.
The court orders mean the men must not enter exclusion zones within the borough or visit some pubs.
The men who have been served with full injunctions, aged between 18 and 48, are banned from entering areas of Walsall for three-years.
Police said they are Lee Hickinbottom, 43, Liam Hickinbottom, 25, Paul Halls 27, Dale Halls, 27, and Regan Halls, 18, Michael Walker, 37, Scott Bannister, 28, all from Coalpool, and Jake Hurst, 30, from Stonnal.
Interim civil injunctions were granted against Andrew Betteley, 53, from Rushall, and eight men who cannot be named for legal reasons, police said.
Birmingham County Court approved an undertaking from another man not to possess weapons or have any contact with the Halls family and their associates.
'Disruption and fear'
Ch Supt Andy Parsons, from Walsall Police, said "injunctions are never sought lightly" after they were granted on 15 June.
He said: "We applied for these injunctions following a series of violent incidents in Bloxwich, Pelsall and the surrounding areas.
"They will have a significant impact for residents of Walsall as these feuding families have been involved in anti-social behaviour for a number of years, causing disruption and fear for many.
"We've made exhaustive efforts with these men and their families to try and steer them away from engaging in anti-social behaviour and criminality."