Suspected Banksy art appears in Birmingham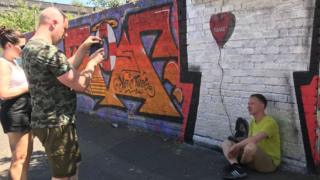 A mural thought to be by the elusive street artist Banksy has appeared in Birmingham.
The work features on a wall on Floodgate Street, in Digbeth, surrounded by other graffiti.
It is not clear when it was created, or whether Banksy is indeed responsible, but that has not stopped people from posing alongside it for photos.
Birmingham Live reported it appeared overnight and it was spotted immediately by local people.
It features a girl sitting on the ground, holding a balloon featuring the word "TAME".
Banksy's graffiti appears extensively in his hometown of Bristol and elsewhere, but Birmingham is not known for his work.
Speculation as to his identity has been rife even before rapper Goldie referred to him as "Rob" in an interview.
Last year, five of his murals in Liverpool sold at auction for £3.2m.