Nuttalls: Jobs to go at Midlands shop-fitting firm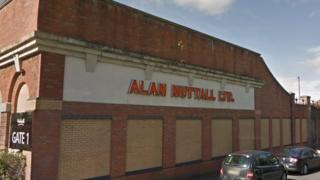 More than 200 jobs are set to go at one of the Midlands biggest shop-fitting firms.
The Alan Nuttall Partnership Ltd announced the redundancies as part of its "refocusing" on "profitable parts of the business".
They will be spread across the company's two sites at Hall Street, Dudley, and Dodwells Road in Hinckley, Leicestershire.
Managing director Nino Calandra said the firm has "no other option".
The company employs more than 500 people and has fitted shop interiors for companies including Pret a Manger, Marks & Spencer, Harrods, and Sainsbury's.
Turnover for the company dropped from £59m in 2016 to £50m, because of the "shrinking retail sector", Mr Calandra said.
The business employs about 400 people in Dudley, where its main shop-fitting business is based, and 100 people in Hinckley, where it has its hot food counter and sign operations.
A further 84 redundancies were made at the start of the year, according to the firm.
Mr Calandra, said the business had to be "reshaped" to "reflect the shrinking retail sector".
"Sadly, we have no option," he said, adding: "We need to do this to live to fight another day."