Kayden Walker: Father says hoodie caused baby's death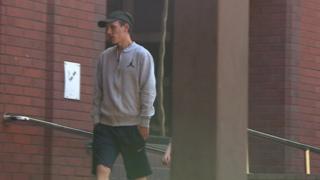 A father accused of murdering his six-month-old son claimed he shook him in a "panic" when the baby was unresponsive, a court has heard.
Birmingham Crown Court was told Kayden died after going into cardiac arrest at his home in Walnut Close, Bilston, West Midlands, in June 2016.
Ricky Walker told police he thought a folded-up hoodie used to prop the milk bottle into Kayden's mouth might have covered his face, blocking his airway.
Mr Walker, 27, denies murder.
Prosecutors allege Mr Walker caused his son "catastrophic" head injuries through forceful shaking.
Mr Walker told police he had "never, ever" caused any physical harm to his son.
He said since Kayden was two weeks old he had used blankets to "prop-feed", as opposed to holding the bottles himself for Kayden to feed from.
Jurors heard that Mr Walker told police officers: "I noticed my hoodie was over him, I tried waking him up, but nothing."
"I left the hoodie on him as I was washing up. As I sat down he had it over him."
Claiming to have shaken Kayden three or four times after noticing there was something wrong, Mr Walker added: "I shook him, like panicked.
"I didn't shake him really hard. It was just like to see if he would come round.
"I have not got a clue why he had got bruising."
Asked by police if there was any reason that he could account for, as to why Kayden died, Mr Walker replied: "I think through my hoodie."
"He was perfectly well and he can't just go like that."
Kayden's mother, Laura Davies, 25, is also on trial after denying causing or allowing the death of a child.
She is also charged with child cruelty relating to allegations of an earlier non-accidental injury.
The trial continues.