Anger over 'abhorrent' smell from Birmingham abattoir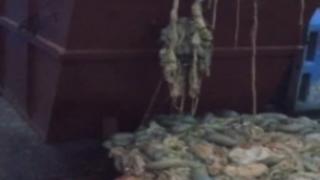 Fresh complaints have been made about an "abhorrent" stench from a previously shut down abattoir in Birmingham.
Businesses by AJ Meats said they have complained to the council and Food Standards Agency (FSA) about smells from unsealed or refrigerated bins.
Under the name Mr Meats, the abattoir had it licence suspended in 2015 after a video showed what appeared to be sheep carcasses and offal overflowing.
The firm did not respond to the BBC and the FSA said it was aware of concerns.
Neil Ferguson, a director at JA Environtanks which is opposite, said it was a "disgusting smell on a regular, regular basis" and they had been complaining about it to the FSA for over a year.
"All times of the day and night and it's just abhorrent and we've complained and nothing is being done about it."
His firm filmed more recent footage of overflowing waste and said he was aware of other companies in the area, around Adelaide Street in Digbeth, that were struggling to recruit or retain staff because of the stench.
"All of the companies in this area want this company to shut down again because it's exactly the same before the last company shut down."
Tahir Zaman, from Eazy Start opposite the abattoir, said the hot weather made it worse.
"On a hot summer's day, it's really bad," he said.
Luke Griffiths, from Crofts and Assinder, said the smell made his staff feel sick but he had received a "limited response" after submitting complaints to the council.
A spokesman for the firm has previously said there had been an abattoir on the site for the past 40 years and "some smell and unpleasantness is inevitable".
The city council also did not respond to the BBC but in a statement, the FSA said: "We are aware of concerns raised in relation to the prompt removal of waste from the site and we have continued to make the local authority aware who have direct responsibility in this area."