Ex-MG Rover workers set for payout after £44m recovered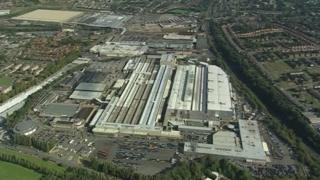 Thousands of ex-MG Rover workers look set to receive another payout, after more than £40m was recovered.
Liquidators acting for the car maker have managed to claw back an extra £44m for creditors, including many former employees, the BBC has learned.
About 6,000 workers lost their jobs when the Longbridge-based firm entered administration in 2005.
Liquidator Matthew Hammond said the money was recovered from the German liquidator of an MG Rover company.
Mr Hammond said: "That should mean that by the end of this calendar year 2018 we should be able to distribute monies to the 5,300 creditors.
"[That] would be equivalent to about another 50% of what they've already received, which is obviously a good windfall at this stage of a liquidation process."
Including the new £44m, more than £200m in total "has been recovered and distributed to workers", BBC Midlands Today business correspondent Peter Plisner said.
He said: "We really judge it [by]... how many pence in the pound for every pound they're owed.
"It looks like they'll get about four-and-a-half pence in the pound this time. They've already received about nine point nine pence in the pound.
"So we're up to about 15 pence in the pound, which for a liquidation is not bad."
A creditors committee, including workers and dealers, decides whether money is worth chasing and if they are still prepared to pay liquidators to chase it.
Mr Plisner said the latest annual report shows the cost of the administration and liquidation was so far billed at about £20.8m, including court fees.