Cats flat fall death in Druids Heath was 'accidental'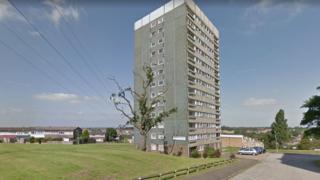 The death of two cats found outside a Birmingham tower block was accidental, an RSPCA investigation has found.
They were found outside Kingswood House in Druids Heath and the charity said initial investigations suggested they had been deliberately thrown.
It now says it is thought they died as a result of an accident.
RSPCA inspector Jonathan Ratcliffe said the window at the flat was left open due to hot weather and the pets "fell to their deaths".
He said: "Following inquiries at the flats, it seems the cats died as a result of a tragic accident after a window was left open due to the hot weather and sadly the pets fell to their deaths.
"Based on this, I would urge owners to be aware of the dangers and keep windows shut - especially on higher levels - to prevent similar tragedies."