Oldbury chemical leak: Homes evacuated due to ammonia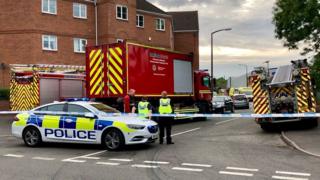 An ammonia leak on an industrial estate has led to the evacuation of nearby homes.
About half-a-tonne of the gas was believed to be have leaked from Beta Heat Treatment Ltd in Summerton Road, Oldbury, West Midlands, on Friday.
West Midlands Fire Service was called at 18:00 BST and homes and businesses in a 100m (328ft) radius were evacuated.
Police urged people to keep away and paramedics are also at the scene.
The ambulance service assessed one person at the scene but they did not need hospital treatment.
The fire service said six workers had already got themselves out of the site as crews arrived. They have not been seriously injured.
A spokesman added that a "damaged valve" is believed to have caused the leak at site, which uses ammonia to harden steel.
On Twitter, one man said he had been evacuated along with his toddler.
People are being urged to avoid the area.