Alum Rock bridal shop fight: Four arrested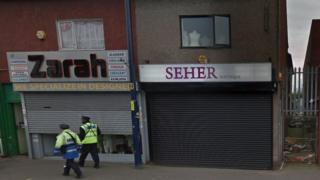 Four people have been arrested after police were called to a fight in a Birmingham bridal shop.
Police were called to Seher Boutique, in Alum Rock Road, Saltley, on Saturday after a reports a number of people had been "fighting with weapons".
One man was taken to hospital with a fractured eye socket while two women, aged 22 and 46, and another man, aged 24, suffered minor injuries.
Officers are continuing to search the shop and examine CCTV footage.