Alum Rock bridal shop fight: Investigations continue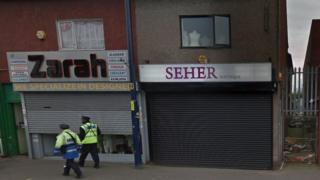 A man who was arrested over a fight in a bridal shop remains in hospital with a fractured eye socket.
Police were called to reports people were "fighting with weapons" at Seher Boutique, in Alum Rock Road, Saltley, on Saturday.
Officers are waiting to speak to the man and have bailed three others with conditions as investigations continue.
These include a 22-year-old woman and man, 24, who were arrested on suspicion of aggravated burglary, police said.
A man, 24, held on suspicion of aggravated burglary was also bailed with conditions.
Three ambulances and an air ambulance critical care car were sent to reports of an assault at the shop at 17:38 BST, a service spokesman said.
Crews treated five people, including three who were taken to hospital.