'Memory cop' honoured for identifying 1,000 suspects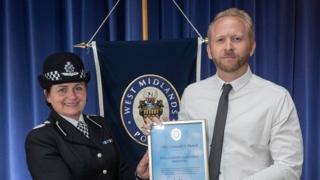 A police officer has been honoured for identifying more than 1,000 suspects in five years.
West Midlands Police say PCSO Andy Pope, nicknamed "memory man" by colleagues, can recognise the faces of people wanted by the force, sometimes years after they were first sought.
He has seen robbery, sexual assault and burglary suspects on buses, trains and on the streets.
The 40-year-old has been awarded a Chief Constable's Award.
Mr Pope, who looks at faces from CCTV footage, stills and police briefings has recognised 1,000 people between 2012-2017, the force said.
Insp Rachel Crump said the work of her colleague within the Safer Travel Partnership was "exceptional".
"Andy has a remarkable ability and various departments across the force have benefitted from his razor sharp memory," she said.
"In some cases he has managed to remember faces years after they were first sought.
"To recognise more than 1,000 suspects in five years is exceptional and has not only helped to catch criminals but get justice for victims."
Mr Pope is also one of only 20 members of the Association of Super Recognisers, a body that represents those with excellent memory capabilities and that wants the skill to be recognised as a branch of forensic science.