Walsall council plans to drug test employees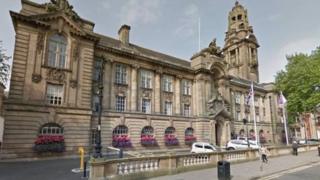 Plans to drug test council employees are being put in place after drugs paraphernalia was found.
Walsall Council says it has called in police sniffer dogs four times in the past two years.
There have been seven incidents during the last three years where drug or alcohol had been reported, a report said.
The proposals for random drugs tests will go before a personnel committee later.
Legally employees can refuse to be tested but if there is a good reason for it being carried out they could face disciplinary action, the council said.
Mike Bird, Conservative leader of the council said: "We have to make sure that the people who are working for the council, especially in the areas where people are operating machinery, are safe."
If approved, Walsall Council will be one of five local authorities in the country to bring in the system.
Birmingham City Council has also adopted the system, while Wolverhampton, Sandwell and North Warwickshire Councils are considering introducing it.
Trade unions and public health bodies were consulted while the proposals were put together, a report to councillors said.
"The way the world has gone, drugs seem to be acceptable in certain areas but certainly not in the council structure," Mr Bird said.
"We get needles, we get cannabis... we're following the lead of other local authorities, if you've got a policy, you can enforce it, but if haven't got anything in place you've got nothing to enforce.
The council report says a number of service areas requested the implementation of the testing policy.
The roles specifically affected by the policy are posts that are directly related roles which if not performed properly, could result in a serious safety risk or environmental hazard to employees, property or the general public, the report states. These include roles which include property supervision, chemical handling or supervision of children.
Unite the union has been contacted for a comment.