Chief constable on beat in Birmingham amid 'high demand'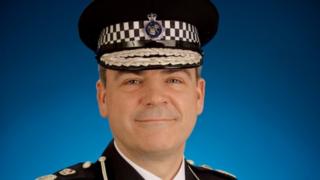 The West Midlands' top police officer went out on the front line to help deal with a "very high call demand" across the force.
Chief Constable Dave Thompson said he was out on the beat on Wednesday to "help clear outstanding calls".
He was sent out on three calls on his own in Birmingham, calling colleagues to help.
After the shift, Mr Thompson said the force often "lacks time" to talk to people.
Mr Thompson said the force had deployed many staff to help clear a "backlog" of outstanding calls, due to high call demand.
Tweeting during his time on shift, Mr Thompson said he was sent to deal with a domestic violence incident, a mental health issue and an act of criminal damage.
He said: "If we could spend more time talking to people we would sort a lot of things out quickly, we lack time."
In February, the force said it was considering plans to close 24 buildings to save £5m a year.
At the end of last year, documents revealed the force was the smallest in its history, with 6,756 officers compared to 8,626 in 2010.