Refugee's abuse in Wolverhampton leaves son 'shaken'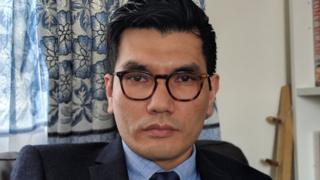 A refugee who was told he "didn't belong in this country" said his son's sense of British identity has been left shaken after witnessing the abuse.
Rohullah Yakobi said he felt "immense pain" when his British-born son Sa-aadat, 10, burst into tears after overhearing the incident on Thursday.
Mr Yakobi, from Wolverhampton, tweeted what happened when he went to speak to neighbours and has been overwhelmed by the response he has received.
West Midlands Police is investigating.
Mr Yakobi, 30, who also has a five-year-old daughter called Roya, fled Afghanistan as a 12-year-old after being captured by the Taliban and then moved to Britain in 2004.
He said he had gone to speak to his neighbours about an issue when he was told by a woman he "didn't belong in this country".
"I am a British Citizen, I do all I can to repay Britain for what it has done for me and I want to make sure my children grow up with a strong sense of belonging to this country," he said.
"I felt immense pain, not at what was said, but the fact that my son stood there watching and burst into tears. That actually hurt me.
"It is painful trying to make sense of it."
Since Mr Yakobi tweeted authors, including Danny Wallace, have offered to send copies of books to Sa-aadat to make him feel better.
Mr Yakobi added: "I did the tweet because I felt it was the only way I could express myself, not for sympathy but to talk about lasting impact of things.
"We were just overwhelmed with the response."
West Midlands Police said inquires are continuing into what happened.