Walsall Council leader brands travellers 'lawless'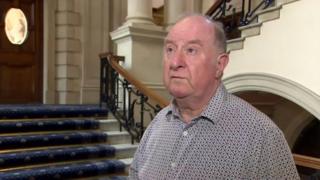 A council leader says travellers are a "lawless society" who "run around on motorbikes shouting abuse".
Mike Bird, leader of the controlling Tory group at Walsall Metropolitan Borough Council, said travellers did "not give a damn".
During a phone-in on BBC WM, in which he drew distinction between "their" and "our" culture, he also accused travellers of thefts in the borough.
A travellers charity said it was disgusted by Mr Bird's "hate".
On Thursday's phone-in, one caller labelled travellers "parasitic" during a long complaint to which Mr Bird responded: "The gentleman [who phoned] is absolutely 100% right."
When pressed whether that meant he thought travellers were parasites, Mr Bird said: "The ones that I've come across, they are a lawless society, they have no respect whatsoever for our community.
"And I get this all the time: 'Oh it's their culture'. But what about our culture, what about our way of life?
"They do not give a damn."
Mr Bird said there were 24 injunction sites in the borough, adding: "It's the rubbish they leave, the intimidation, the threats, the theft."
A spokesperson for charity Friends, Families and Travellers, which "seeks to end racism and discrimination against Gypsies, travellers and Roma", said it was "disgusted" by Mr Bird's comments which were filled with "hate and based upon generalisations".
She said politics which reinforced "ideas of 'them' and 'us' might win votes" but "damaged our society".
Phien O'Reachtagian, chairman of the Gypsy and Traveller Coalition, said: "His suggestion that communities are lawless is cause for concern from someone in his position.
"We'd be looking to make a formal complaint and liaise with police to see if a crime has been committed."
Later on Thursday, Mr Bird spoke to the Local Democracy Reporting Service and said travellers ran "around on motorbikes shouting abuse".
The Conservative Party has been contacted for comment.