Solihull murders: Mother and daughter stabbed to death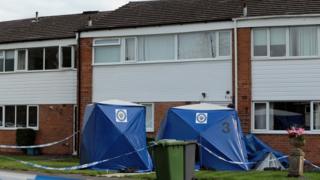 A 49-year-old mother and her 22-year-old daughter have been stabbed to death in a street in Solihull.
Police are treating the deaths of the pair, who were found in Northdown Road just after 00:30 BST, as murder.
West Midlands Police said a suspect known to the victims had been identified and officers were "making urgent attempts to arrest him".
Neighbours reported being woken up by "a lot of screaming and shouting" and a man driving away in a van.
Ali Gibson said she saw about six ambulances, "police cars dotted everywhere" and lots of people coming out of their houses.
Ms Gibson said: "I was genuinely really scared last night. I would never expect it from somewhere like this.
"I have lived here for over a year and a half and I've lived in Solihull my whole life and I've never had anything happen so close to home."
A man living near the property said he was woken up by screaming but assumed it was the sound of people coming home from a night out.
The father-of-two, who did not want to be named, said: "Then police knocked on my door and asked for some towels, so I knew at that point it was serious.
"I've got a young family, so I was worried about what was going on."
Another neighbour said: "There was a lot of screaming and shouting and then I saw the guy run off. About a minute later I saw him leave in a van."
The area has been cordoned off while examinations are carried out.
Det Insp Caroline Corfield said: "What has happened this morning is truly devastating and heartbreaking.
"Our thoughts go out to the two victims' family and friends at this traumatic time."
---
At the scene: Amy Cole, BBC Midlands Today
This is a very quiet residential area nestled close to Solihull town centre.
A zig-zagging of police tape cordons off a section of Northdown Road, which runs through a large housing estate.
Outside one of the properties are two striking blue tents, a sign that something awful has taken place.
Inside the cordon there's also a car which a forensic officer is photographing.
Police patrol the area while residents tell me they are shocked and dismayed by what has happened.
They say this is an area where there's very little trouble. One man tells me the worst they see is perhaps a stolen or vandalised car.
People can't believe their neighbourhood is now at the centre of a criminal investigation and under the media spotlight.
It seems some of the people who live here keep themselves to themselves, and no-one I met seemed to know the identities of the victims.
Some confirmed that police had been to see them this morning as part of their inquiries.
For the time being, the estate remains peaceful, as those neighbours come to terms with the tragedy.
---
Det Insp Corfield added: "We are still in the very early stages of our investigation but we believe the offender is known to the victims.
"We are appealing to him come forward as a matter of urgency."
The force said officers were speaking to people living nearby and there would be a "visible presence" over coming days to "provide community reassurance".