Bournville villagers hurt by painted rocks 'thefts'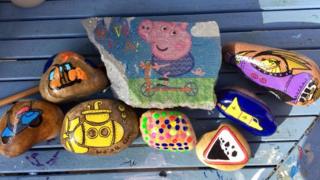 Villagers say they are "gutted" at the disappearance of about 70 stones which they had decorated as part of a rock-hiding craze.
Lynn Mason, who set up the Bournville Rocks group in Birmingham, had to tell its members a line of stones on the village green was taken overnight.
"It's a complete mystery. Not one was left," she said. "Who would do such a thing?"
The stones were painted in the theme of transport, many decorated by children.
They were being lined up on a wall near shops in the village - famous as the home of the Cadbury factory.
"Children have been rushing to add their stones before school," Mrs Mason said.
Midlands Live: Lady Godiva statue covered in graffiti; Pub to be knocked down for HS2
The Bournville group, which has more than 1,000 online members, is one of many nationwide where people decorate stones, hide them and then post details on social media.
Mrs Mason said the residents were adding to the line each day and the aim was for the stones to be hidden in October for people to enjoy finding them.
"It has brought the community together," Mrs Mason said.
The art enthusiast said "all sorts of people", including retired residents and parents have been taking part.
"It's a wonderful thing to do," she said.
"It gets children outdoors and crafting with their families, so parents love it. We use lots of inspirational quotes too."
Laura Simmonds, of the Bournville group and Northfield Rocks, has decorated about 400 stones since June. She said she was "gutted".
"The aim is to make people smile," she said.
"Sometimes they go missing but to lose 70 like that is a bit malicious to be honest."