Dog rescued after head gets stuck in railings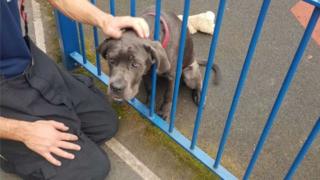 A puppy with her head stuck between railings was rescued by firefighters.
The five-month-old dog had been playing in Darlaston, West Midlands, when, in an inquisitive moment, she put her head through park railings and got stuck.
She was there for about 30 minutes before a fire crew from Wednesbury released her.
"She was not distressed and she was actually quite playful," a fire spokesman said. "We made a fuss of her and she was fine."
The dog, thought to be a cane corso, was accompanied by its owner who was also relieved her dog was freed.
Crews used a hydraulic spreader to push the railings apart.