Prince William honours 'holocaust hero'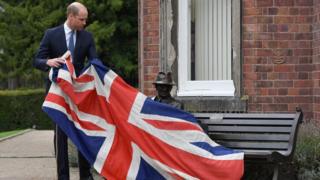 Prince William has unveiled a statue to commemorate a "quiet, unassuming" British spy who saved thousands of Jews from Nazi persecution.
Maj Frank Foley posed as a passport control officer in Berlin in the 1920s and 30s, providing visas to people at risk due to Nazi racial laws.
The statue was unveiled in Stourbridge where Mr Foley spent his retirement years before his death in 1958.
Honouring him, MI6 described him as "a true British hero".
"Frank Foley did not carry out his work for personal gain," MI6 said in January.
"Indeed, many of those he saved knew nothing of the quiet, unassuming British man at the consulate who saved them."
He is credited with saving the lives of more than 10,000 people.
Maj Foley's great-nephew Stephen Higgs said the unveiling of the statue was a "hugely proud moment for his family".
Michael Mamelok, who managed to leave Berlin thanks to the efforts of Maj Foley, told the prince his story saying that without Maj Foley, he or 17 of his descendants, would not be here today.
Earlier, the prince visited the University of Birmingham, where he made a speech at the National SkillForce graduation ceremony - a scheme aiming to build the character and confidence of young people.
He also visited Acorns Children's Hospice in Selly Oak as part of its 30th anniversary celebrations.
The hospice has provided care for more than 870 children since it was opened by Princess Diana in 1988.